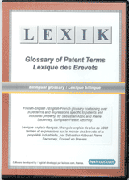 English <-> French glossary containing over 3000 entries (approx. 14000 words) pertaining to the world of patents and intellectual/industrial property, by Sebastian Abbo and Pierre Saconney, European patent attorney. The glossary is mainly intended for professional translators and those working in the field of international patents.

Features:


Small "toolbar" type interface which can stay above whatever Windows word processor you use and does not get in the way.
Three search modes, allowing instant retrieval of translations.
Program interface in two languages.
"Smart copy" facility for faster pasting of terms into documents.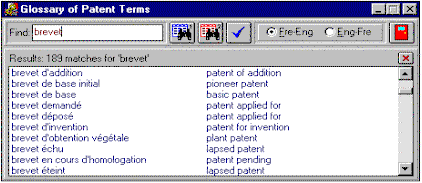 System requirements: Windows 95/98/ME/NT/2000/XP/Vista, 4MB hard-disk space.

Interface in English, French

Publisher: Lexicool.com
Prices & ordering