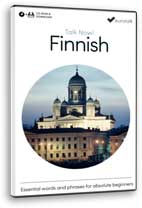 EuroTalk's Learn Finnish is an excellent program for absolute beginners. It is a method that is easy to use and is suitable for people wishing to learn on their own. It offers an enjoyable and stimulating way to learn basic vocabulary and expressions in Finnish.

To enable learners to quickly acquire a basic vocabulary of about 500 words, the CD-ROM proposes the following topics: first words, food, colours, basic phrases, the human body, time, shopping and countries. Native speakers are used to present all the new words and phrases in all the topics. A number of exercises are proposed so that learners can repeat, record and compare their pronunciations with those of the native speakers. Games with varying levels of difficulty enable learners to assess the level that they have reached. It is also possible to print colourful illustrated copies of each vocabulary module. A points system allows learners to evaluate their progress and obtain a progress certificate.

This CD-ROM is not only suitable for adults, but also for children from 10 upwards. The interface can be configured so that cartoon characters present the information instead of the default adult presenters.

As with all the products in the Talk Now series, the interface is available in several languages and the CD-ROM will work in Windows PCs and Macintosh OSX computers.

Minimum system requirements:

PC: Windows ME/2000/XP/Vista/7/8, colour display, sound card, CD-ROM or DVD-ROM drive, microphone (recommended).

MAC: OS X 10.3.9, colour display, sound card, CD-ROM or DVD-ROM drive, microphone (recommended).

Interface in English, French, Italian, Spanish, Finnish and many other languages.

Software version: 2014/2015

Publisher: EuroTalk Interactive, UK.


Price and ordering
EuroTalk CD-ROMs for other languages